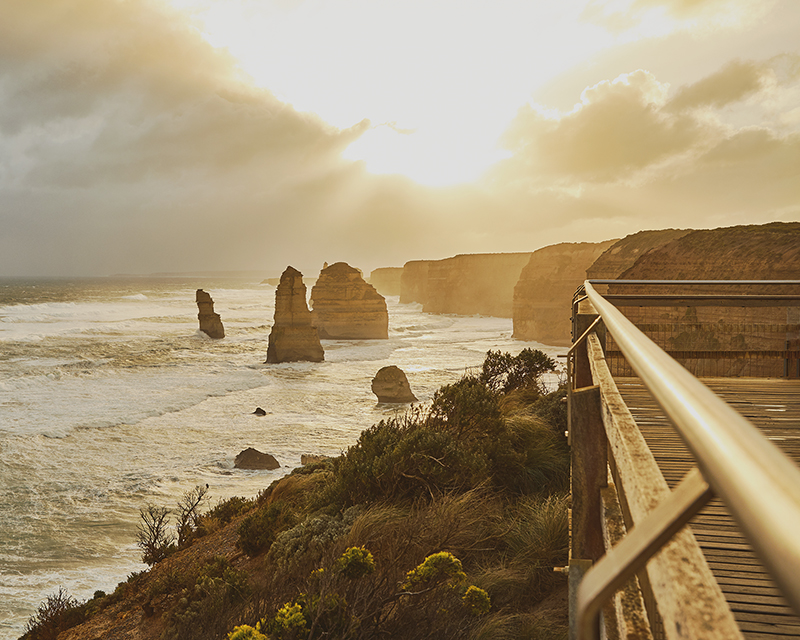 Few things are more Australian than a road trip - the country's sheer scope and size whispering to the wanderers amongst us. Venture forth, the road calls, and escape into the extraordinary; see reefs and rainforests, salt lakes and snow. Here, we hit the road young, and never really stop.
My parents - inspired by their own childhood memories of sinking into the vinyl bucket seats of Holden Monaros - would pile my brothers and I into the car and set off into what felt like the great unknown. We drove from Perth to Monkey Mia to feed dolphins, and while the limestone Pinnacles of Nambung National Park were astounding, what blew my nine-year-old mind were the signs warning that we were passing the last petrol stop for hundreds of kilometres. We travelled from Sydney to Crescent Head for chilled-out beach vibes, dreamt of braving the Canning Stock Route, and high-tailed it to Echuca in a day, our backseat patience rewarded with muffins by the Murray River as paddle-steamers pootled by. So, after a decade living abroad, it felt right to celebrate my Australian return with a road trip; and while there are countless routes to entice the nomad within, it was western Victoria - with its promise of spa towns, wine and gold - that won out.
The best road trips jolt you of the ordinary. With tunes blaring and landscapes shifting, they make you forget yourself - and maybe even the era - as you get lost in the spectacle around you. For some, it's a way of life, for others, just a temporary reprieve. Either way, to embrace the road trip ethos, it's best to begin your journey with something marvellous. In my case, this was Lon Retreat in the Bellarine Peninsula, a short drive from Melbourne - via a sunrise dip at Geelong's East Beach Reserve, an Art Deco sea pool overlooked by Jan Lennard's bollard sculptures (each of her 103 wooden artworks depicting a personality from the city's past).
Covering 200 acres, Lon Retreat is an oasis made up of seven spacious suites, each individually designed and adorned in stone, wood and shades of blush, olive and blue. The suites are named after clouds, an ode to just how big the skies feel here, and the entire property is built to help you breathe out and feel at one with the land. You float in a pool fed by mineral springs, indulge at the spa and spend afternoons rambling over windswept dunes, the waters around you daunting but divine.
There's a sense of community at Lon, a desire to showcase the region's offerings. Every six weeks, walls are bedecked with works from an artist who has spend 12 to18 months roaming Lon's beach and farm in search of inspiration; Amy Wright's pastel canvases, that blend dream and reality while capturing the soft light and muted hues of the Bellarine, were hanging during my stay. Then there's the Makers & Growers Pantry, which brims with local treats - including honey gathered from hives beside Lon's kitchen garden and a cornucopia of wine.
A particularly memorable chardonnay hailed from Jack Rabbit Vineyard, where the strong fruit flavours are shaped by volcanic soil and a maritime climate that allows grapes to ripen slowly. These wines are intense but elegant, much like those produced in Burgundy and Bordeaux - I recommend sampling them in Jack Rabbit's restaurant, where the menu features ingredients from the artisan specialists who call the Bellarine home; there's 'Bruce the herb dude', Lard Ass butter, mussels fresh from Queenscliff boats and an abundance of goats' cheese. Arrive hungry.
In Land's Edge: A Coastal Memoir, Tim Winton writes that 'there is more bounty, more possibility for us in a vista that moves, rolls, surges, twists, rears up and changes from minute to minute ... if you look out to sea long enough, something will turn up.' This rang true along the Great Ocean Road, where the wild and rolling sea feels like a constant, bewitching companion.
The Great Ocean Road is a 243-kilometre-long driving route built by returned soldiers after the Great War. It begins near the Bellarine in Torquay, the home of Australian surfing, and takes in the Otways, Lorne and its buzzing arts community, the Twelve Apostles and London Bridge (iconic limestone monoliths that are at their most otherworldly come sunset) and rambles aplenty - like the hike from Anglesea to Point Addis that delivers you to Bells Beach, a surfing Eden.
You'll also find Wildlife Wonders en route, a fern-and-eucalyptus-filled pocket of Otways bushland where visitors, on guided walks, can encounter creatures that would otherwise go unnoticed, or have disappeared from the area entirely. Koalas chill in trees, kangaroos congregate and the resident emus are insatiably curious - there's also an excellent whale-watching spot where the light is so perfect that, at times, you can see whales before they break the surface.
I was bound for Port Fairy, a picturesque haven of Late Georgian architecture and Norfolk-pine-lined streets (which rose to prominence as a whaling town in the 1830s and 40s) at the end of the Great Ocean Road. I stretched my legs on Griffiths Island, savouring the sea air and solitude as I meandered along the bluestone lighthouse trail. I feasted at bakeries (a staple of every Aussie town), considered joining locals for a 7am East Beach swim, and toasted my journey thus far at the Merrijig Inn. Here, chef Tanya Connellan cooks with love - something I noticed in her tartare of tuna belly with Port Fairy horseradish, and slow-cooked lamb neck with daikon, turnip, star anise-spiked broth and coriander salad. Tanya's seasonal menu evolves depending on the ingredients neighbouring producers have to offer: seafood comes from the Portland fishing trawlers lining the wharf, and whatever can't be supplied from the Merrijig garden is harvested by Gary, Nick, Ken and Philip - who leave their wares by the restaurant's door. 
Things are particularly delicious in this corner of western Victoria. It's home to some of the country's best dairy producers, the biodynamic grapes at Killarney's Basalt Vineyard are grown for the love of grapes, and in Dunkeld you'll find the Royal Mail Hotel, a revamped 19th-century pub revered for its restaurant, Wickens, which is supplied entirely by Michelle Shanahan's thriving garden. Much of this deliciousness comes down to the mineral-rich soil - this is, after all, the third most densely populated volcanic region in the world.
To learn more about the area's explosive past, I journeyed to Worn Gundidj (Tower Hill), where Worn Gundidji Enterprises guides visitors through the dormant Marr volcano - the largest of its kind in Australia - while delving into the history of the Gunditjmara people. Worn Gundidj first exploded around 38,000 years ago, but has been quiet for the last 7,000. However, it takes 10,000 years for a volcano to be deemed extinct - and Australian volcanoes, found far from fault lines, act a little irrationally - so you can't help but wonder if we're due a bit of action.
Today, Worn Gundidj is a vibrant, verdant sanctuary, although none of its 300,000 trees (as of 2021) are more than 60 years old. In centuries past, settlers cleared much of the land for farming, reducing the crater to a wasteland. For Worn Gundidj to thrive as it does suggests it's never too late to take environmental action - and that collaboration with Traditional Owners is vital.
There's something magical about immersing yourself in nature. It's a reset, a chance to be overcome by awe and remember that our story, tiny as it may be, is entwined with the world around us. I sensed this at Gariwerd (Grampians National Park), a towering pocket of wilderness that rises dramatically from the surrounding planes, a forested island in a grass sea. Gariwerd is a bio hotspot, home to around a quarter of Victoria's bird species, and staggeringly old, formed from marine sediments that were thrust up, folded and pressurised over millennia.
Mackenzie Falls and the Balconies will take your breath away, the rock art astounds and the160-kilometre-long Grampians Peak Trail will set the hearts of long-distance trampers aflutter. Should you wish to tackle this (or a slightly shorter route), look to Absolute Outdoors, which strives to leave Gariwerd better than they found it. I embarked with my guide, Ant, on the Gar Waterfalls Walk, a leisurely path through bushland and cloud. With dew glistening on the eucalypts and the falls gushing, it was wintery and wonderful - although Ant notes that every season has its charm. In autumn, the rains return and late flowers bloom, in summer, relief is found in ice-cold swimming holes, and when spring arrives, so do the wildflowers, enveloping you in a riot of colour.
I toasted my tramping efforts with a tipple at Blue Pyrenees Estate, one of the first Australian wineries (it was established in 1963) to experiment with cool climate viticulture. Surrounded by bush and overlooked by the Pyrenees mountains, it feels like a haven - one adored by the kangaroos nestled among the vines. Having wisely relinquished driving responsibility, I paired their cellar door tasting board with splashes of grenache (berry and earth), cabernet sauvignon (blackcurrant and oak) and shiraz (warmth and spice) - and much more besides.
The winery is a short drive (in Australian terms) from Ballarat - a city indebted to the discovery of gold in 1851. Here, fortunes were made in glints and glimmers and many Gold Rush benefactors - their pockets suddenly lined - invested in culture and architecture, elevating the town while sating their desire for a legacy. Such generosity made the The Art Gallery of Ballarat possible. Today, it is Australia's oldest and largest regional gallery, a space dedicated to making art relatable and ensuring every work comes with a story.
The adoration of art continues in Ballarat's Provincial Hotel, where the in-house exhibition changes every three months, yet always features work from emerging female creatives. Pieces from past shows hang in the mosaic-dotted Lola restaurant, which is named for Lola Montez, an actress, dancer, feminist and courtesan who caused quite a stir on the goldfields.
Daylesford also owes much of its existence to gold - and while it flourished in the 1850s when the daring travelled from across the globe to strike it rich, it was the Swiss Italians of Ticino who remained long after gold fever subsided, planting vines and establishing farms. Daylesford is now adored for the tranquility of Wombat Hill Gardens (found atop an extinct volcano, of course), its mineral springs, copious antique stores and the atmospheric Convent Gallery. There are boutique hotels with history such as the deliciously dapper Peppers Mineral Springs - where I soaked away aches and worries in the lavish spa after a misty morning ramble - and Lake House - the jewel in my road trip crown.
In the 60s, Alla Wolf-Tasker's Russian parents bought a summer house in Daylesford; nothing fancy - the town was relatively unknown at the time - but somewhere they could grow veggies and entertain. Since then, Alla has felt connected, so when she and her husband - artist Allan Wolf-Tasker - came across a blackberry-strewn paddock in 1979, she immediately envisioned the country restaurant she'd always dreamt of, a place worthy of a journey.
A Renaissance man, Allan built the original restaurant, and the Lake House, which has grown to include a hotel and cooking school, remains a family love affair. Their daughter Larissa oversees the interior design, Allan's art adorns the walls and Alla's restaurant continues to celebrate Daylesford's bounty. There are berries from Liz Burns at Trewhella Farm, eggs from Paul Righetti's Limestone Farm (he's a descendant of Ticino settlers), and delights from The Fermentary. Produce also hails from the family's latest venture, Dairy Flat Farm, a 40-acre regenerative farm that supplies Lake House with flowers, honey, herbs, olives, breads and a range of boutique ingredients. It's a dreamy setting for those staying in the farm's concierge-serviced lodge, where food is king and guests depart with an absolute sense of place.
The best road trips take you by surprise; you're caught up in the splendour, the desire to travel further and see more. It's only when you return home that you understand just how immense a journey was. Experiences on the road arrive in an enchanting, non-stop whir - the clarity comes later. By looking back (occasionally from a city in lockdown) you appreciate anew the retreats built on a Bellarine family farm, places that preserve and promote our past, towns shaped by gold, hidden volcanoes and restaurants where it's all about love. These memories are enough to sustain you - until the next road trip begins.
By Liz Schaffer